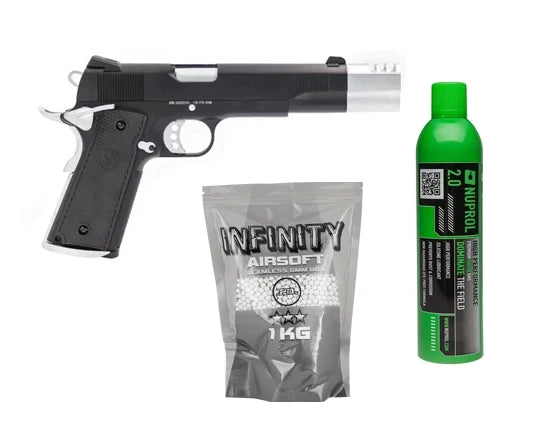 Vorsk
Vorsk VP-X Christmas Deal - Save Over £120
This Christmas, we're pulling out all the stops to bring you deals so good they'll blow your socks off! Included in this ready to play package is a £10 voucher to use on your next online order from Just Airsoft!
The Vorsk VP-X is an excellent choice for those looking to take their shooting to the next level. This brushed aluminium airsoft pistol features removable Vorsk Compensator, V-Notch Iron Sights/ Raised Fibre Optic Iron Sights, high stipple, polymer hand grip, bespoke MEU slide incorporating vertical slide grips, functioning Beaver Tail Grip Safety, Slide Lock Latch, and a chrome inner barrel. In this package you get get Nuprols 2.0 green gas which pair perfectly with this pistol top shoot consistently. You also get Valkens infinity which give a accurate and reliable shot each time.
Product Features:
Removable VORSK Compensator
V-Notch Iron Sights/ Raised Fibre Optic Iron Sights
High Stipple, Polymer Hand Grip
Bespoke MEU Slide incorporating Vertical Slide Grips
Functioning Beaver Tail Grip Safety
Slide Lock Latch
Chrome Inner Barrel
Package Includes:
Vorsk VP-X Pistol

2 x Additional Gas Magazines (3 total)
0.2g Valken Infinity BB's - 1KG
Nuprol 2.0 Green Gas

£10 discount code to use on your next order.
Brand

Vorsk

Powered By
Gas

FPS (0.20g)
320 

± 10%

Construction
Metal/Polymer
Hop-Up
Adjustable

Blowback Gun
Yes

Recoil
No
Shell Ejecting
No
Fire Mode
Safe/Single
* PLEASE NOTE, A VALID UKARA OR DEFENCE IS REQUIRED IN ORDER TO PURCHASE THIS WEAPON OR ANY OTHER NON-TWO-TONE R.I.F (REAL IMITATION FIREARM)
Just Arrived
Check out this months most popular gear.
Just Airsoft
Tactical Christmas Stocking
Get ready for a unique Christmas with this new tactical Christmas stocking from Just Airsoft! This durable stocking complete with all the usual molle fittings and attachments is the perfect way to surprise your favourite airsoft enthusiast at Christmas.
Stockings are sold empty, giving you the freedom to fill them with tactical items of your choosing to make this a Christmas to remember!
Features:
Strong and durable material.

Large internal storage to till to the brim with goodies.

Spring loaded clips to hang the stocking from.

Standard molle design to attach items.